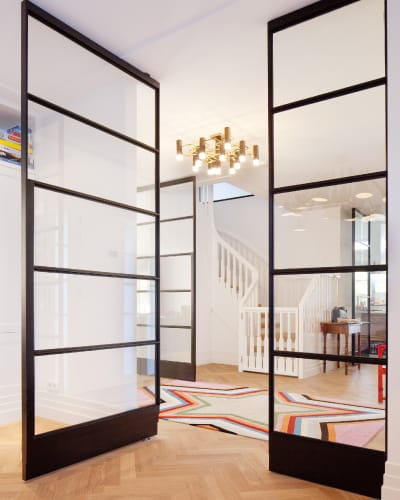 05 Sep

Fritsjurgens Concealed Pivot Door Systems

Bellevue Architectural is proud to introduce the latest addition to the FritsJurgens range of fully concealed sprung and non-sprung pivot systems, the 'SYSTEM M'.

The 'System M' is the next step in the product range's evolution. FritsJurgens has taken the best features from its range and created a completely new and improved model. 'System M' is suitable for a 40mm thick door and includes a variable back check and soft close function; as well as an increase in guaranteed door closing weight, now up to 300kg.

With no unsightly floor spring box to cut in the floor and no head unit to rebate into the ceiling, the FritsJurgens 'System M' put simply, is invisible; making it clean, stylish & significantly cheaper to install.

Brilliantly designed, FritsJurgens pivot systems are unlike traditional pivots due to it being fully embedded in the door. There is no visible pivot hardware at the top or bottom of the door. An added benefit; there is nothing to rebate into the floor or ceiling. Saving significant time and money on installation.

This key aesthetic and design element is unique to the FritsJurgens systems and is no accident. All the FritsJurgens pivot systems have been designed with this key feature in mind.